Philosophy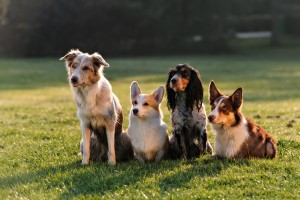 There are hundreds of dog obedience training programs and philosophies, and they all seem to contradict each other. One gives treats and praise, the other insists that too much praise won't allow the dog to learn long-term obedience. Even more confusing to the dog owner is that each opposing program seems to be successful to some degree. Using a treat and heavy-praise approach could teach your dog to sit and stay just as well as a no treat approach, but they will both be lacking when it comes to overall obedience.
While many dog training classes and approaches will teach your pup how to obey you at home, our tried and true obedience training method works every time, in almost any environment, and under almost any circumstances. That's what sets us apart from the others.
Our Fort Collins Dog Trainers
Our Fort Collins dog trainers are passionate about what they do, and work not only to train your dog, but to understand why they act out or don't obey, and to solve these issues at the source. By learning the latest studies and effective training techniques, we understand your pup's unique needs, and can tailor a training program specifically to them.
We will begin your training with a free evaluation, where we will discuss your options with you, what we think is causing your dog to act out, which methods we believe will help him overcome those challenges, and why. In our training, the most important element is not that your dog will obey your commands. Rather, we emphasize teaching your dog to be obedient at the park, at home, when he is stressed out, or in a three-ring circus.
In addition, we know that it is useless for your dog to obey only us. Because of this, our obedience training includes training for you and any other member of your family to whom you wish your dog to be obedient. As long as they can speak clearly and are able to give hand signals, they can help train your furry friend.
Our Recipe for Success
We know that our teaching method is effective because it has proven to be successful for hundreds of dogs. We tailor every service, every class to each specific dog, creating a positive and effective learning environment, regardless of what your pup has been through. Together, you and our qualified trainers can help your dog achieve goals you never dreamed were possible, making your life easier and their life happier.
What Our Obedience Training Can Do
Not only will you save yourself the frustration and headache of having a disobedient dog, but your pup's life will vastly improve. Now you can take him on a walk without feeling overwhelmed, he can be outside without being chained to the house, you can invite guests over, you can go to soccer games with him, and he will be more free, happier, and healthier.
Not only will your best friend be forever grateful for this gift of freedom, but you and your dog will be able to share a bond through the process that you'll carry with you forever. Learn more about our philosophy and programs by contacting our Fort Collins dog trainers today.